This blog post will take you through the step by step guide to creating an online e-commerce store using WordPress.
☑You don't have to be a programmer or a coding genie.
☑ Creating an e-commerce store with WordPress will not fall too heavily on your pocket
☑ A working computer with an internet connection is all you need
Once you go through this step by step article you will be able to create your online store with WordPress.
Step 1: Set up domain and a hosting
The first thing you need to create an online store is a "domain" and a "web Hosting"
You can register your domain from one of the domain registrars like GoDaddy and Namecheap.
How to find and register A Domain Name in easy steps
Step 1: Brainstorm Your domain!
Make your domain name memorable. Brainstorm to find out a unique, creative and meaningful domain name for your brand. Use the word in your domain that will clearly describe the content and brand of your website or business.
Don't make your domain name look similar to the bigger competitive brand. Try to keep it short and meaningful rather than making it too long. Hunt for the expired domain. you can also find some good domains at a reasonable price from domain marketplace like Sedo.
Step 2: Look for the top level domain!
Top level domains like .com, .org, .org are popular.
If your target audience or visitors are global then having a global domain extension like .com is recommended. In case, you target local customer in a specific country or state, the better option would be country-specific domains like .com, au, .in, .fr etc.
Switch to draftPreview(opens in a new tab)Update
Step 3: Pick a reliable domain registrar!
Hosting a domain needs a registrar. There are lots of popular domain registrar like Whois, Namecheap, GoDaddy etc
There are a lot of hosting service provider for WordPress. Siteground, Bluehost, Inmotion hosting, Namecheap are some of the popular hosting providers. Before you jump to a hosting provider for a hosting plan, try to figure out the answer to these questions:
How fast and reliable is this hosting server?
How affordable is the pricing?
How Great is the customer support service?
How is their service reviewed by the existing customers?
How to choose a good hosting service?
It can be difficult to choose a good hosting service to a provider, especially when you are a beginner. There are different kinds of hosting packages and choosing a good hosting depends primarily on what your needs are and how strong is your budget. You can go for:
Shared web hosting
VPS web hosting
Managed WordPress web hosting
Shared web hosting
Shared hosting comes under the economic class of hosting. hundreds and thousands of websites are hosted under one server. commonly available resources are shared by all users. This is the reason why they are a bit cheaper.
Shared hosting can be vulnerable to low server uptime and even some security threats at times. However, with a very affordable pricing plan, shared hosting is very popular.
SiteGround and InMotion hosting have popular plans for shared hosting.
VPS web hosting
A VPS hosting is somehow similar to shared hosting but in this hosting, a virtual private server is shared without the possibility of and side effects on your website.
The hardware is partitioned and shared equally among the members. so there is no chance that one user uses 80% and the other 20%. all of the users are allocated an equal amount of hardware.
Managed WordPress web hosting
With managed WordPress hosting the server architecture is made to perform with WordPress in a very smooth way. In the managed hosting The memory, processor, caching, software, all are integrated into one package.
We have done a detailed comparison among different hosting providers to help you find the best hosting service for your needs. Click Best WordPress Hosting
After you are done with the domain name and hosting, its time for you to get done with the real thing now. Yes! installing WordPress. Follow the steps below to quickly set up your WordPress installation.
Sign in to your hosting Cpanel.
Most of the web hosts have a "one-click installation" feature. Click on the one-click installation
Select your registered domain and continue
Fill up the website information in
Click install
Click here for more details on how to correctly install WordPress
How to set up the domain
After you are done with domain registration and have a hosting package, the next step is to set up your domain.
If your domain registrar and hosting provider is the same, you don't have to worry about setting up the domain. The process will be automatic.
But, in case the domain name provider is different from your hosting provider, you need to point our domain to your hosting provider. This will help your domain to get directed to the hosting server.
This can be done by placing the appropriate nameservers.
Log into your domain
Log into your domain registrar website
Go to your domain
Choose your domain name from the list of domains( if you have more than one domain)
Click the Name Servers tab.
Select Use Custom Nameservers
Fill up the new name server
Click Save
Note: you name server will be provided by your hosting service provider.
A typical name server from SiteGround would look like:
It may take around 72 hours for your name server to start functioning.
Step 2: Install the theme

login to WordPress dashboard.
The WordPress dashboard is the area where you do all kinds of customization to create a perfect online store.
Find out a good WordPress eCommerce theme. Online Store is a good free WordPress theme for creating a beautiful store online. After you are done with choosing a perfect theme, download it in a zip format.
Now go back to your WordPress dashboard and follow the instruction below to install the theme.
Login to WordPress Dashboard
Goto appearance
Click >> Themes
Click >> Add Themes
Click >> Upload themes
Click >> Choose file
Find your recently downloaded theme file (must be a zip file!)
Upload and Activate
Done!
Things to consider before choosing an e-commerce theme?
Does the theme look good visually?
Will it match your brand?
will you find enough space for your text and graphic content?
Is the theme customizable?
Is it responsive to multiple devices?
Is it compatible with the latest browsers?
Is it SEO optimized?
You can find some of the great e-commerce themes by clicking the links below:
🔎 Best Free WordPress online store themes
🔎 Best free WooCommerce themes for online stores
🔎 Free WordPress themes for e-commerce business
Step 3: Download the plugins
Once you complete installing the theme, You should go for installing the important plugins. Once you activate the theme, you will see a notification asking you to install and activate the necessary plugins
Step 4: Set up your WordPress perfectly
Login to WordPress Dashboard
Goto >> setting >> general
Here you can set up the site "title" and "description.
Scroll down and change the WordPress Address and the site address from HTTP to HTTPS. Finally, click the Save button to save the changes made.
Step 5 : Set up the store.
You need to set up things like payment, shipping, and currency details before you begin to make online sales. Go to your plugin area and click on the "woo-commerce" plugin. You will immediately see a welcome screen with an option "run the setup wizard". Click this option to run the setup. Click "Continue" to make the setup moving.
With this you will come to the next step:
Now is the time to specify your store location and the currency you use for the transaction.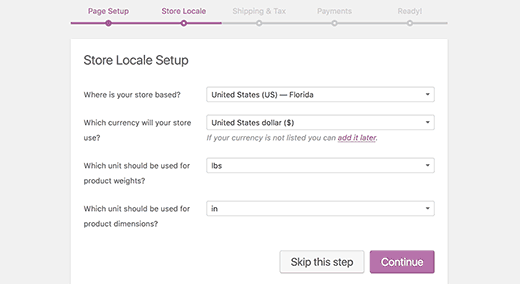 Hit the "Continue" button to continue further setup. Next, fill up the information on shipping and tax details.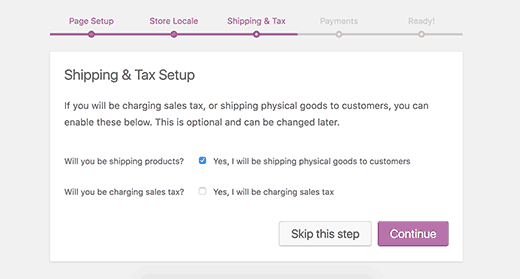 You can create an online store using WooCommerce for selling both digital product and physical accessories. If you plan to sell the physical products, check the box. Otherwise, neglect it.
Now, provide necessary answers to the questions regarding taxation. Leave it if you did not get enough idea on tax. You can always come back later and manage the settings.
Click continue and save the changes made.
Next, your online store should be configured for the payment setting by selecting an appropriate payment method.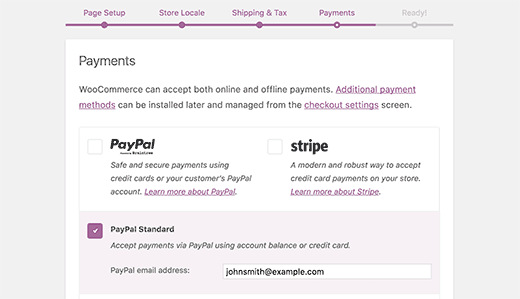 Paypal and stripe are the default payment gateways provide by WooCommerce. You can install your preferences later in case you need to add a different payment gateway. Payment is a standard and a common way of payment used by most.
Using Paypal and stripe both for your payment process is a good idea. The strip allows user to put the card information during the checkout and they don't have to leave the site.
follow the screen by WooCommerce to set up the payment process by stripe. This will complete your WooCommerce setup process.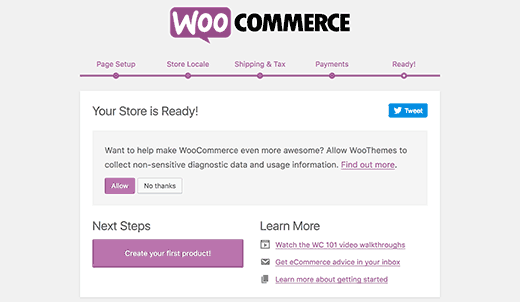 Return to the WordPress dashboard by click on "return to dashboard". This will exit the setup wizard.
Step 7. Add the Products
Now is the time to add products to your online store and give it a feel.
Click on Products » Add New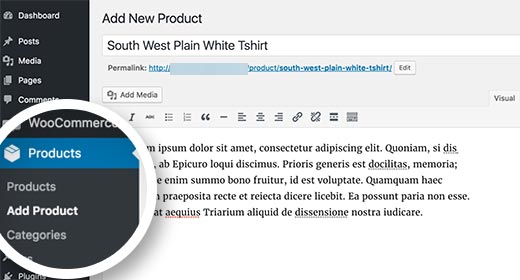 Add a title for your product and add some description that properly describes the product.
On the right side is the "product categories". From there click: Add New Product Category". This will make the product browsing easier.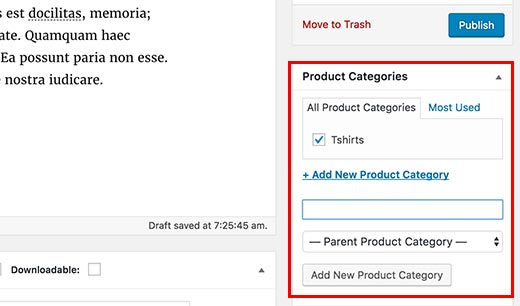 Scroll down and you will see the different field for "product data". You need to provide information like the price of the product, inventory status, shipping info etc. in these data fields.
More down the bottom is another box where you can add a brief description of the product. Keep this description short.
Next, on the right side column, there are boxes where you can add the product image and gallery items.
After you are done with adding the product details, click on the "publish" button and view it on the live site.
This way you can add more product by repeating the same process.
Step 8. Improve store with Plugins
By now you will have a basic online store with some product ready to get going. You would now want to add a bit more features like contact form, subscription forms, image galleries, sliders and more.
You can do this kind of small customizations using WordPress plugins. You can achieve almost anything using plugins. you just need to figure out the right kind of plugin for your site.
you can find and install plugins directly from the WordPress plugin repository
Few more things to take care of:
Download the SEO Yoast plugin for better SEO.
Sign up Google Analytics and Google Search Console
Create an XML sitemap and submit via Google Search Console.
Integrate social profiles with the site. Use the necessary plugins.
Test the forms used in your site.
Secure your site using security plugins
Frequently Asked Question
Do I need coding or programming knowledge for creating an online store with WordPress?
No, you don't necessarily need any technical knowledge for creating an online store with WordPress.
2. Can i use a free theme to create an online store?
Yes, there are a lot of free WordPress themes with high customization features. You can use one of them to create your store.
3. Is Woo-commerce Free?
Yes, WooCommerce is one of the most popular wordpress plugin that is totally free to use.
4. Is Woo-commerce store better than Shopify?
There is a monthly payment plan with Shopify. But, with WordPress using Woo-commerce you only need to pay for the domain and hosting. No monthly plans.
5. Is WordPress Safe?
Yes! WordPress is a pretty safe platform. There are lots of security plugins and extensions to secure your WordPress site. You need to follow the basic security protocol to keep your site safe.
Wrapping Up
This way you can create a complete e-commerce store using the incredible WordPress platform. We hope we helped you in getting idea on how to create a e-commerce store with WordPress.
You can leave your feed back in the comment section below. We will be more than happy to hear your words.