When I was just a beginner in WordPress, I made the first site using WordPress.com. It was great fun to get started with WordPress.com but not so long after I realised the limitations on WordPress.com and started looking for the way to move on to the WordPress.org platform.
As a beginner, it was not that easy for me to handle all the things together. With the help of some great tutorial and WordPress guides, I managed to successfully move on to WordPress.org. In this guide, I will show you the exact process in a very simple way to guide you to move your site from WordPress.com to WordPress.org
Before you being the migration process, you should already have installed WordPress on your host. There are different hosting services available to host WordPress site.
You can compare some of the best WordPress hosting.
Step 1: Export your existing WordPress.com content
In order to move your existing site from WordPress.com to a new site onWordPress.org, you should first export all your site from wordpress.com. In this tutorial, I will show you how to do that with one of my a demo site that I made back as a beginner. Let's see how this can be done.
First, you should go into you wordpress.com admin area by signing in.
In the WP admin area of your site look for the "tools" section. inside the tools section click on "export"
Select the expert box and click on " start export".
On the next page, you need to select the things you would like to export. Make sure you to select "all content" option as you are going to import the whole site.
Now, your site will be downloaded as a single XML file. The file contains all the content like the post, page, menu, and more. Copy the download file and save it on the desktop area.
Step 2: Importing content of the old site to the new site.
Login to the admin area of your wordpress.org site. your WP admin area looks like this.
In the WP admin area of the go to "tools"–"import"
On the next page, click to install the WordPress import plugin. Move down the bottom and hit the button '" install now"
After the plugin is installed, you will see "run importer" on the same link. Hit "run importer" to continue file import.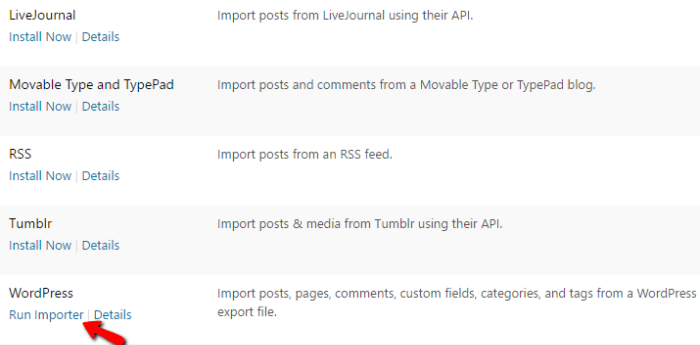 Now in the next step click on "choose file" and select the downloaded (.xml) file that you already have from your previous site. Then, click " upload file and import" button to continue.
WordPress will continue to import all your content from the previous site.
Before your site import begins, WordPress will ask you to choose which author you would want to assign all the old post to. In this case:
create the exact author profile as in your wordpress.com site
assign to new author profile
assign to existing author profile
You can also check the box that says" download and import file attachments" so that all your images and media files in the post remains intact without the post being broken on the new site.
Click on the "submit" button and the migration will ultimately take place. The time for the migration depends on the size of your file. So have patience.
Once you've done that, click Submit, and WordPress will migrate everything over. Depending on how big your site is, this might take a little time.
Step 3: Check for any error and issues
If you have followed all the instructions accurately, the imported site should look exactly similar to the previous site in wordpress.com.
However, it is a good idea to go through the site once to make sure that all the images and content are imported correctly. Check for any broken links and text.
Sometimes in a large site unexpected loss of content can happen. So, double-checking is a good way to ensure everything is fine.
Step 4: Redirect your site

After successful migration, another step would be to take care of SEO things. You should remember to redirect your old WordPress.com site to your newWwordPress.org site. This will help you preserve your search engine rankings.
In this case, redirection from wordpress.com can be done only after paying an amount of $13. For someone looking to preserve the SEO weight and restore their search ranking, spending $13 should not be a big concern.
To redirect your old site WordPress.com Site Redirect page. Put on your new URL in the box and git "go". Finish the payment process.
Enter your new domain name in the box, click Go, and handle the payment:
Install Important Plugins
Installing plugins is not a mandatory step, but will definitely give you a lot of added comfort. You can install Jetpack plugin for WordPress which you probably have been accustomed while using WordPress.com.
Jetpack can help you with the traffic stat, controls security threats and reduce the load time of your site.
You may also want to have a look on the Essential Tools for Bloggers
Wrapping Up
This brings us to the end of the steps to follow in order to move your site successfully from WordPress.com to WordPress.org. When you completely move your site on to the new platform you would be expecting your site to look like your old site.
But, that might not be the case. Because the migration process will transfer only the content files not the theme as a whole. So depending upon your active theme the site might look a bit different. If you want to preserve the original feel of your site, you can install the same theme to make it look similar to your old site.
You may also want to read: How to load your website faster